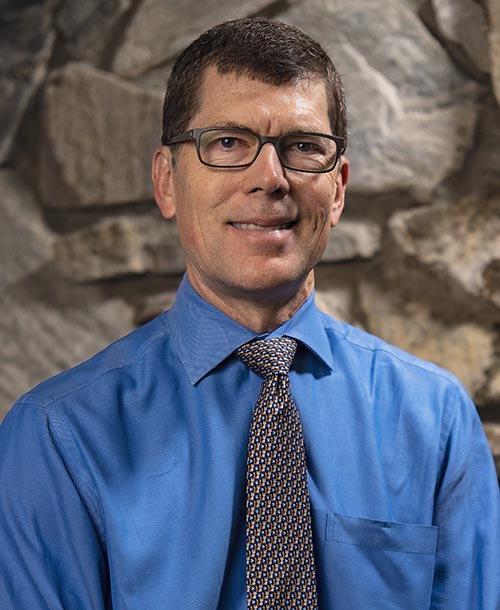 Dr. Markoff was born in the farming town of Visalia, California. At age 13 he moved with his family to Collegedale, Tennessee, where he spent his high school and college years. During this time, he developed a love for this part of the country, and especially enjoyed hiking in the Smoky Mountains. He returned to California for medical school, and graduated from Loma Linda University School of Medicine in 1986. He stayed at Loma Linda for his internship and ophthalmology residency training. He met his wife, Patricia, while at Loma Linda. She graduated from the physical therapy program and went on to get a doctorate in public health. After finishing their training, they looked around the country for a place to settle, and felt drawn to Waynesville and Haywood County. In August of 1990, Dr. Markoff joined Dr. John Nerney at Mountain Eye Associates, which had been founded by Dr. Nerney in 1977.
The Markoffs have three children. Dr. Markoff enjoys spending time with his family exploring the surrounding mountains. They all enjoy snow-skiing and water-skiing together. Dr. Markoff has been a member of the Waynesville Sunrise Rotary Club since coming to Haywood County. He and other club members started traveling to Montero, Bolivia in 1996, and have returned yearly since then building up an eye care program, performing cataract surgeries and helping to build on to the clinic in Montero. 
Dr. Markoff is a past president of the North Carolina Society of Eye Physicians and Surgeons, the Ophthalmic Anesthesia Society, and a former chief of the medical staff at Haywood Regional Medical Center. He holds a lifetime certification from the American Board of Ophthalmology. He has served as a co-instructor for courses in phacoemulsification cataract surgery, limbal relaxing incisions, and manual small incision cataract surgery at the annual meeting of the American Society of Cataract and Refractive Surgery.